RHS Hosts First Infochat
RSF Partners with RHS ELA Department to Bring Together Students and Professionals
At the mere age of eighteen, students are expected to know how they want the rest of their lives to pan out. While the school tries its best to help students, sometimes it's hard to understand what to expect in their future.
On November fifth, the Rhinebeck Science Foundation partnered with the ELA department to try to bring 12th grade students that kind of understanding.
The Infochat, as Jen Hammoud (RSF President) named the event, was an opportunity which allowed  students and representatives of many different professions, ranging from digital design to biochemistry, to meet and converse about the students future.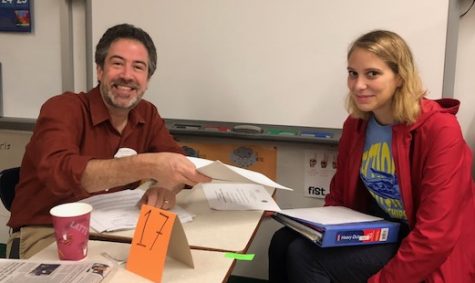 Adults from our community talked to students about their experiences in their professions and life. Each 12th grader was able to select three professionals they were interested in speaking with. After the organizers of the event drafted a schedule with everyone's preferences in mind, they were able to chat with three different professional for about 20 minutes. It was important for student to meet with people outside their major to see other paths and ideas.
Some students were able to talk to people outside of their major, which was still majorly important according to the students. The professionals not only explained what they did for a living but also gave important information about college and general life advice.
Ms. Cerbone exclaimed, "There are hundreds of professions out there, you don't need to know right away but you will find it".
Cerbone was originally majored in teaching but soon realized it wasn't her calling. After many years, she finally decided to go to nursing school. As she went along in nursing school she still didn't feel like she fit until she discovered psychiatric nursing.
Her story showed students that they don't need to know what they want to do right away, that their big picture didn't need to be clear right now.
When talking to the soon-to-be graduates, I discovered that the students, each from very different backgrounds and with different future plans, enjoyed and got a lot out of this experience. One student who was hesitant about the program expressed that even though she had no one from her own career path or intended major there, she still enjoyed and learned many things from the people she talked to.
The Infochat was not only helpful—it could be considered a necessity for many students unsure about the future. The first Infochat made a huge impression on the students of Rhinebeck High School, and hopefully for others in the future.