Covid-19 + School + Winter = Chaos
"As a country, as a society, as a state, as a school we were not ready for this kind of challenge" states Dr. Davenport in regards to the Covid Crisis.
This year has been tough since the coronavirus made an appearance—especially for people who have lost loved ones due to Covid-19. Unfortunately, the coronavirus is going to be more unpredictable with winter coming soon. 
According to Joe Pinsker's "The Winter Will Be Worse" appearing in The Atlantic in August, "For nearly five months now, the outdoors has served as a vital social release valve—a space where people can still eat, drink, relax, exercise, and worship together in relative safety."
Even though summer has been wonderful, allowing us to social distance outside, it's going to be much more difficult to go outside in the winter.
Right now in school, we have mask breaks and according to Dr. Davenport they are required by the state to have at least one mask break each school day.
There have been discussions between Dr. Davenport, Mr. Kemnitzer, and Mr. Burg about what mask breaks will look like when it gets colder outside. Since we have enough space in the gymnasiums and cafeterias, the plan is for the students who don't want to go outside to go to them, and  students that want to go outside are welcomed to do so.   
Furthermore, events and fundraisers that would normally take place in winter will most likely stay the same; however, there will definitely be changes to accommodate the Covid-19 situation. Dr. Davenport says he will try his best to keep the calendar the same, but events like concerts will most likely be virtual. 
There is another issue pending.
According to the article "All the ways the coronavirus will make this school year harder than the last, even if campuses reopen" by Valerie Strauss from the Washington Post, "Health officials are warning that the fall and winter could see big coronavirus infection spikes at the same time as the regular flu season begins, complicating efforts to keep students and teachers healthy."
Flu season is a issue because "it is possible for someone to have the seasonal flu and COVID-19 at the same time" says the U.S. Center for Disease Control and Prevention. Therefore it is most likely to cause more panic nationwide when someone sneezes or coughs.
According to David Vlahov, an epidemiologist at the Yale School of Nursing, "because the two diseases have some symptoms in common, telling them apart can be difficult." Another thing is that both COVID and the flu compromises the respiratory system so both feed off the other.
"Making matters worse, the pandemic will, if it isn't somehow neutralized, coincide with flu season, which usually starts in October and is at its worst December through February," says Joe Pinsker from The Atlantic.
With winter coming, in the event that a student and/or teacher does have Covid-19 the district is required to notify the County Health Department. They will then take over the situation. The health department will then investigate who else has come in contact with the positive Covid-19 cases. In addition, they would tell the people with Covid-19 to stay home.
Hypothetically, if someone were to be diagnosed close to winter break it would be up to the County Health Department to either close school or close it for a short period of time; however, if the school were to be closed for a short period of time, we would still continue school remotely so there wouldn't be an extended winter break. 
Another issue that comes with winter is the need for added measures to ensure student and teacher safety. But don't fret, there are measures in place right now, like making sure to do a health screening each morning before coming into school, sanitizing stations, and frequent cleaning on the most touched surfaces like doorknobs. In addition, the district has hired a part-time nurse to help out in Rhinebeck High School as well as Bulkeley Middle School. 
To see more about coronavirus cases please visit this article in the New York Times.  The screenshot also gives a quick glimpse at the number of cases and deaths in our country, according to the Center for Disease Control.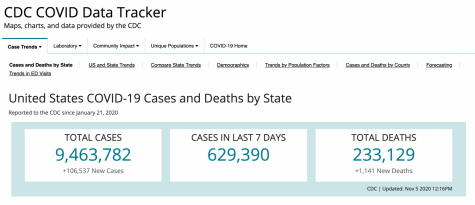 Dr. Davenport advises everyone when in public to try to minimize time in crowds, continue practicing social distancing, and when you're in school if you feel any symptoms whether it's the flu or Covid-19 to go immediately to the nurse.
In addition, "How We Survive the Winter" by James Hamblin from The Atlantic recommends five basic measures we should take in the winter: accept reality, plan for more shutdowns, live like you are contagious, build for the pandemic, and hunt the virus.
Accept reality means accepting this situation will take many steps instead of one fix all solution like a sudden vaccine.
Plan for more shutdowns is a precaution because with winter coming there will most likely be a spike in coronavirus cases causing a shutdown again.
Living like you're contagious is self-explanatory but means to try extra hard to not go out unless you have too and if you do go out make sure to stay six feet apart and wear a mask.
Build for the pandemic is essentially another precaution especially for businesses that want to keep open during the winter. This could include building an extra roof and adding outdoor heaters to accommodate people in the cold while social distancing.
Hunt the virus is learning what the symptoms of the coronavirus are and detecting who may have it in a crowd or group.
These are important things to keep in mind during winter.
I know that the coronavirus is a complex, scary situation and back in March Dr. Davenport states, "there were a lot of unknowns," but right now we have a better understanding of Covid-19 then we did in the beginning.
All we can do now to help stop the spread of the coronavirus is to keep social distancing and wear a mask when in public. Hopefully, in time there will be a vaccine so we can go back to living our life.