Saying Goodbye to Purple & Yellow: Welch, Fritz Take Their Next Steps
With a combined 48 cathartic years of teaching under their belts, Mr. Welch and Ms. Fritz have decided to retire.
Prior to becoming a teacher, Ms. Fritz worked 11 years at Vassar College as a technician, ordering supplies and finding materials for the science classes.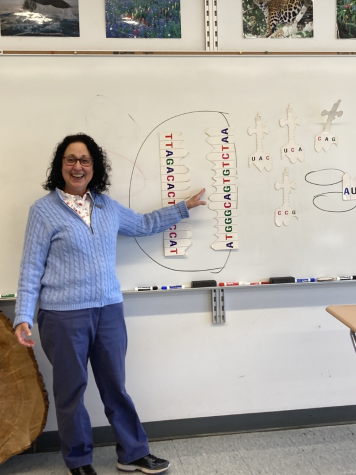 Working alone and inside a basement lacking natural light, she found the job "repetitive and isolating." She knew she needed a change. And after coaching her children's soccer team, she found her spark. Engaged with children on the soccer team, Fritz realized what she now wanted to do: she decided to pursue teaching.
All her tireless work to earn her master's degree paid off and she was hired at RHS in 2001. Ms. Fritz hasn't looked back since: "it's been the best change I've ever made."
Ms. Fritz will miss many things about teaching. She'll miss her colleagues and all the memories she's made here at RHS. But most of all, she will miss her students, who she cares for as if they were her own children.
She continues to look forward to seeing graduated students and says she's always proud to hear what they're doing with their lives along with the differences they're making.
After retirement Ms. Fritz plans to move to Colorado this summer to be closer to family. She also hopes to get a job in conservation to continue her work with environmental protection.
After 28 years of hard work, dedication, and team building, Mr. Welch will also continue his life's journey outside of RHS.
Although it may seem easy to leave the school and move on, he stresses about the potential bore of retirement. He will miss the crazy adventures with his students.
Mr. Welch chose to share a very unique story with us about a student he once had. Welch believes the two had been talking about favorite foods when suddenly a student picked a glue stick up off of his desk and bit a chunk out of it! (Don't worry, it wasn't toxic.) But it didn't bode well with the nurse.
For Mr. Welch, RHS has been a lively place with many activities like vibrant and creative skits in his classroom.
One particular special event was back in the 90s when they had a teacher-student basketball game. Welch recalls the stands cheering his name: "Make a free throw! Make a free throw!" they chanted. AND HE DID!
Not only did Mr. Welch enjoy his students, he also adored his colleagues and the tight knit community at Rhinebeck: "I've been from one side of Dutchess County to the other teaching," said Welch, emphasizing that RHS has become his second home.
We know Mr. Welch will miss seeing his birds and listening to the ecureuils (squirrels in French), scale the trees to get a nibble at the feed.
Short term: Mr. Welch plans on traveling around LA and even Panama to bird watch. Long term: He has no set plan but would love to find a volunteer job and a new place to live.
We asked both Mrs. Fritz and Mr. Welch who they could picture replacing them at Rhinebeck, and they gave us some fantastic candidates!
Ms. Fritz chose famous actor, filmmaker, and entrepreneur, David Attenborough. Mr. Welch also chose actor and filmmaker, Edward Norton or Vin Diesel, as a backup.
The students and staff will miss these two bright and amazing teachers with all their hearts and we wish them the best of luck with their future endeavors!
Goodbye purple and yellow, hello to new bright colors of the world!