Have No Fear: The Exchange Students Are Here!
December 7, 2022
Salut, Romain!
As everyone knows, Rhinebeck High School is small, and oftentimes we don't get to experience many new students each year. Most of the kids you meet in Kindergarten will also be the ones you graduate with. 
There is one curiosity evoking type of new kid Rhinebeck can always count on to cause a conversation buzz around school, and that is the exchange students! They join us here in our little town to not only gain new cultural encounters and a shift in experience, but also to open up the eyes of students here to the lifestyle they are coming from. 
Romain Benhamou is one of the recent additions to the Rhinebeck Junior Class. During school lunch, we had a casual sit down conversation together and discussed who he is, and what cultural differences he has noticed the most since he came to America.
I was not expecting to have a surprised reaction after asking my first question: "What is your full name?". And yet, the response I received was, in fact, surprising. 
As an American, like many others, I am used  to hearing someone tell me their first, middle, and last name without hesitation, but when I asked Romain, his response wasn't what I expected. 
"Wait, I have to remember," said Romain. 
 I laughed at this response, not realizing it was genuine. Romain then informed me that his full name is Romain Théotime Samuel Benhamou. He explained to me that in France name significance is different. Most French have multiple names after their first, but the only one that really matters is the first and last name; the others are pretty unimportant, which is why Romain took a minute to think about his. 
Romain lives 20 minutes outside Paris, France in Croissy sur Seine. The school he attends is called Saint Germain en Laye, a private high school in Paris. 
I was curious to know what the biggest difference between American schools and French schools was; Romain's answer was the level of authority.  "American school is a lot easier and it is way less strict than in France," said Romain. 
I was fascinated to hear this.  Most American teens consider the schooling here to be too rigorous and the curriculums to have too much material. It's odd to think that the work we complete here would be considered easy. When Romain is at school in France,  he says that math is his favorite subject, but here, it switches. He enjoys taking Intro to Psychology with Mr. Moore, and also thinks that P.E is really fun. 
I later asked Romain what his future schooling plans would be on his return to France. 
"I think I'm going to change schools," said Romain. If he stays at his current school, he will be held back a year because of this exchange program. This means he would no longer be in the same year as his friends.
After hearing this, the strictness of the education system in France was clear to me. 
Outside of school, Romain told me that the biggest difference between American and French teens is the urge to drive. Here, we look forward to our 16th birthdays the most because that means the privilege of getting a permit, but in France, the need to have that independence is a lot less thought of. 
"Sixteen-year-olds in France don't really drive. To get your license you have to be 18, and you can start driving with your parents at 16, but nobody really does it," said Romain.
At home, Romain has 2 siblings; a younger sister Chloé, 13, and an older brother Matthieu, 17, with whom he is close. His parents both work in finance.
It was his father who sparked his interest in tennis from a young age. "I started when I was four, and it was my dad who got me into it," said Romain. He has continued to play ever since; one of his favorite tennis players is Raphael Nadal. Other hobbies of Romain include playing varsity school soccer this fall, varsity basketball this winter,  and playing saxophone in his free time. 
Even though he has only been here a few months, it's clear Roman has become a great new addition to Rhinebeck! 
Leave a Comment
Adam Kovar on Ice
Unless you're a Czech Republic historian, it's doubtful you know much about the country. To be fair, many people don't. But our own foreign exchange student, Adam Kovar, gave me the chance to understand and admire the culture, tradition, and most importantly, the lively food of the Czech Republic.
Just 30 minutes shy of Prague is Adam's hometown, Kaklik. He lives there with his mom, dad, and siblings. 
Unlike us here at Rhinebeck, he doesn't have the choice of getting breakfast at the cafeteria. Adam's high school doesn't offer our beloved hashbrowns or scrumptious french toast sticks. 
He gets a good breakfast at home. He waits a couple of hours until lunch while in his classes. In between meals, in order to get through his school day, he will get food from some of the vending machine options! Adam let us in on what the machines his school look like: 
"We also have some vending machines but there are strict rules—only healthy vending machines; it is not like you can buy cookies or some snacks or chips. Only sandwiches or something healthy." 
Kovar also explained that you aren't allowed to buy coffee because the schools aren't allowed to sell students caffeine. Apparently, the Czech Republic is taking a magnifying glass to the nutrition going into their kids' systems. 
In a decree set by the country, the Czech government stated that, "'Sandwich-type bakery products' sold in the schools shall not include mayonnaise, dressings, mustard or ketchup". Take notes, America! We have school food initiatives, but we the U.S. doesn't really have any laws like this.
After he munches on a sandwich, or a healthy vending machine item, the next meal is lunch! The lunches he consumes on a daily basis are much different than the ones provided at our school in the U.S. 
Instead of tacos with meat and cheese, or pizza with salad, he gets fed…. Svíčková and Gulâś! Adam described the first dish as being a Czech staple. In its entirety, it consists of dumpling covered with cream sauce paired with meat, usually steak. 
The second dish he mentioned, Gulâś, is made of red sauce and meat, but Adam prefers Svíčková. Based on the common rice and meat duo that appears in his school lunch, I think it's clear that a lot of the meals are protein and carb heavy. Compared to the U.S., the meals have a lot in common. But they don't have the hospitality of the Rhinebeck Cafeteria workers!
It's important for Adam and his classmates to consume foods from all of the food groups in order to play their sports. In Adam's case, he needs the nutrition to play his sport of choice, ice hockey. He basically eats, sleeps, plays, and repeats. 
To my surprise, hockey isn't crazy popular in his home country—only a couple of his friends at school play, and his brother is one of them! His practices and home games are at a local ice rink where he lives.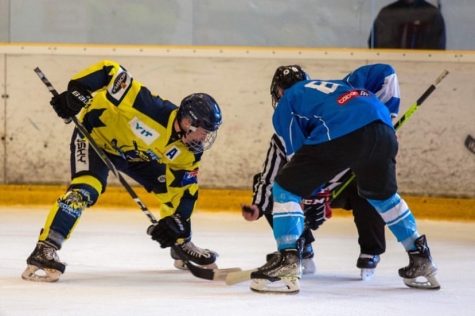 Normally, after a tough practice, some kids reward ourselves with common fast food places like Chipotle or McDonalds. In the Czech Republic, not many kids go out for dinner. Adam told me during our interview that most people his age tend to eat at home; some kids cook, but most of them have parents that cook. The meals they eat for dinner are pretty similar to the meals at lunch. They're very classic, hardy meals.
But if for some reason they do go out, they do have access to American food chains, like many places in the world. But one place that I think many Rhinebeck Reality readers might not have heard of is Bageterie Boulevard. Adam said that the only way to compare it is to think of it as a sister sandwich shop to Subway. He likes it and so do his fellow Czech friends. 
Whether you talk about food or hockey, Adam is a guy with stories to tell and laughs to share. So if you see him around, say hi!
Let him know if you ever try Svíčková and Gulâś! 
Leave a Comment