"St. Elmo's Fire" (1985) Review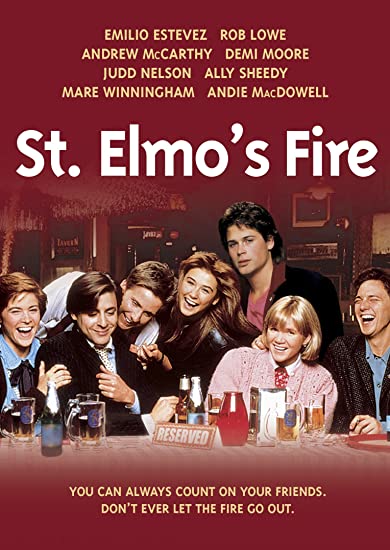 St. Elmo's Fire, written by Joel Schumacher and Carl Kurlander, is honestly quite a mess of 80's movie dramedy. This story takes us on about 7 journeys of a group of college best friends who have to find their way in an unforgiving world after they have graduated college. Finding your place in society after you are done with school can be rather existentially disparaging process that everyone has to go through, and it can become even more of a challenge when you are trying to stay attached to members of your past. The film is full of actors whose names were very present in the movie world at the time, such as The Outsiders' Rob Lowe, The Breakfast Club's Emilio Estevez, Judd Nelson, and Ally Sheedy, Ghost's Demi Moore, as well as Groundhog Day's Andie MacDowell and Pretty in Pink's Andrew McCarthy. The topics of friendship and relationships are truly the center of the entire film, as well as finding yourself as an independent individual in the world.
I would give St. Elmo's Fire a 6.5/10 because I do truly love the actors and what the film stands for, but the movie doesn't stand to be any kind of impressive representation through its filming technique or plot devices.
Leave a Comment