Five Years Later, Rhinebeck's Still Got It
Rhinebeck Varsity Boys Soccer Team bring homes RHS 4th State Title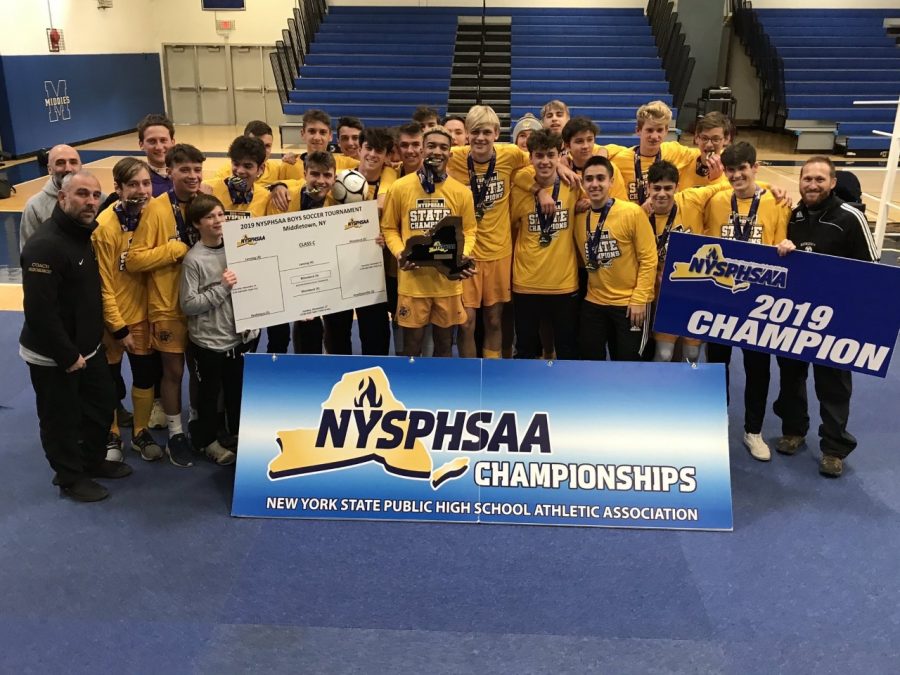 "This is what we have been striving for since freshman year," Nakoa Zuger, Senior and Captain said.  
The feeling of victory was surreal for Zuger and his teammates. 
5 years after the 2014 win, the Rhinebeck Boys Soccer achieved its goals and brought  home the gold. The team went undefeated all season with a 21-0-1 record and a no goal post season with the help of keeper Brenden Hines. 
And what led the team to victory? 
Captains Colin Murray and Gideon Rothschild say it was a combination of mental strength and good leadership.
When interviewed, it was clear that Coach Wiesenthal really knows who his soccer players are.  The boys had been playing well for the last 3-4 years with what Wiesenthal called a "unique team dynamic."  
At the end of Sunday's game, a ton of anxiety released, according to Wiesenthal.  In his words, it was "pure happiness," despite the cold.  
And, to Wiesenthal, this year's win was totally different than 2014.  This team was undefeated, and the defense played a key role in that record.  
Both Jonny Lange and Noah Lortie were ball boys back then and now have gone on to win their own states as starters for the team. 
Noah even managed to snag home MVP after his amazing scoring streak. 
As for the future, Junior Alex Ulrich says the team is "satisfied but still hungry," signaling that this team has no plans on stopping. 
Congratulations to the Boys Varsity Soccer Team and their coaches on winning the Class C State Championships!