RHS World Summit Assembly Features International Abilities Activist Chaeli Mycroft
Rhinebeck, NY---Special Assembly, December 10th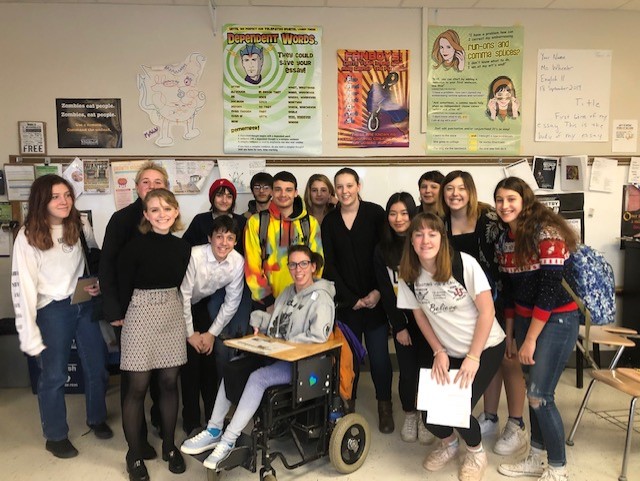 Rhinebeck Reality Staff
December 12, 2019
Imagine climbing up Mount Kilimanjaro's 19,341 feet of loose rocks and and cold rain for many days. 
Now imagine doing it in a wheelchair.
That's what Tuesday's guest speaker Chaeli Mycroft did.  
A 25-year-old adventurer, athlete, ability activist, Mycroft won the International Children's Peace Prize in 2011.  
The Chaeli Campaign, founded by Chaeli Mycroft , her sisters, and two of her friends, focuses on raising money to change the lives of disabled children.  And Chaeli's mission of spreading her message and creating more inclusivity takes her all over the world.
On December 10th, students in Media Communication had the opportunity to meet with Mycroft after a whole-school assembly.
Along with speaking out against discrimination that comes with disabilities, she also advocates for the voice of young people to be heard.
She showed us how to challenge the phrase "We're just kids": 
"Yes, my position gives me a particular perspective. but it's STILL VALID."
Mycroft encouraged us to use our experience to engage people. 
"You are an authority on your own experience," said Mycroft.
Zelda Mycroft, Chaeli's mother and president of the campaign, said one way that Chaeli Mycroft breaks through to people is that she gives them permission to laugh.  
Chaeli talked to us about her philosophy surrounding her struggles with anxiety.
Whenever she feels stressed, she allows herself three minutes to freakout.  Her mother and she call these meltdown"frothies."  After the three minutes are up, it's time to make a plan.
Some of our reporters were asking about writing, and she said "do not consume yourself with academic writing—be creative."  Mycroft is currently seeking her PhD and cherishes the time she gets to read for pleasure.
"
If you're not curious, you're encouraging yourself to remain ignorant."
— Chaeli Mycroft
Students also asked Mycroft questions about her campaign and how we might apply her ideas here at RHS.
Second year journalist Ryan Milne asked, "How do we make our school more inclusive place for people with disability?" 
Her response explained how she got started with her own activist organization.  
At first, it was very practical, she said.  She would ask how do we get that kid a wheelchair to get out of their home, for example.
But then Mycroft realized it was more often a question of mindset.  Mycroft decided that first she and her team had to focus on the attitude towards disability—not just the logistics.
With this in mind, our reporters hope to address the question what does RHS need to do to become more inclusive and improve attitudes towards people with disabilities.
Chaeil Mycroft could have lived her own life but she decided to become an amazing activist for people in the disability. She has helped change the conversation about disability and help others understand to be better.
Read more about her organization's activism at the Chaeli Campaign website and follow Chaeli on Twitter @Chaeli_Ability.