Rhinebeck High School Welcomes a New French Teacher
Teaching four different levels of French to over 150 students is a challenging job. But if anyone could do it, it would be Madame Cracco, who prefers to be referred to as Mel, a shortened version of mademoiselle. 
Madame Cracco grew up in France and lived there until she was 13. She then moved to England for three years. When she was 16, she moved with her family to Westchester and finished her schooling there.
She attended SUNY New Paltz and decided to become a teacher. She has been teaching French for 17 years. She is now teaching BMS and RHS students French I, II, III, and IV (AP French).
Madame Cracco lives in Hyde Park with her almost 4 year old son, Mathéo.  Madame Cracco adopted her son through the foster care system and originally took him in when he was only 8 weeks old. 
"I believe in giving back to my community," she said, explaining her choice.
The journey started December 21, 2018 when the homefinder called Madame Cracco.
"He became my responsibility after that phone call," she said. 
CPS told her they had a placement. She had a trip, but she canceled it because she didn't want her son to be moved around even more. Three hours after that phone call, CPS came to her house with her son.
"…I was just in shock staring at him. She said to me, 'are you gonna take him out of the carseat?' and I said, 'Am I allowed to?' and she goes, 'yeah, that's what you signed up for.' And then the rest is history," said Cracco.
It took three years and three months for Mathéo to be officially adopted in March 2022. Throughout that time a lot had happened, but she always prioritized her son. Madame Cracco named her son Mathéo, but kept his birth name, Jerimyah, as his middle name.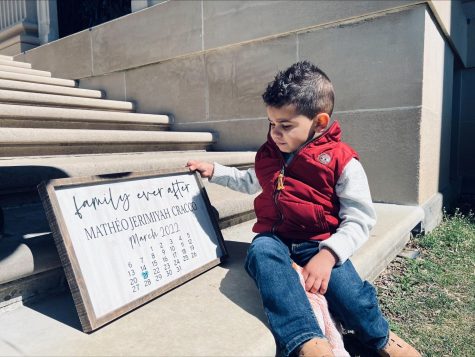 Just as she nurtures Mathéo, she also brings life to her classroom with her vibrant green plants that bring smiles to students' faces. In the beginning of the school year, she introduced herself to her students.
"J'aime marcher en montagne et m'asseoir près d'un lac tranquille où je peux observer tout ce qui m'entoure," she said. (Translation: "I like to walk in the mountains and sit near a quiet lake where I can observe everything around me.") 
To meet someone so genuinely selfless is eye opening. I'm so grateful to have had the chance to interview her. 
Rhinebeck High School is lucky to have Madame Cracco as our new French teacher.