The Rhinebeck – White House Pipeline
RHS Alum Turned White House Deputy Chief of Staff
The chances of getting Obama's phone number are slim, but never zero. For Rhinebeck alum Alyssa Mastromonaco, it only meant becoming the youngest Deputy Chief of Staff at the White House.
I have met some cool women in my life, but the Mastromonaco women take the cake. Ms. M- if for some reason you don't immediately straighten your collar at the mention of her name- is one of Rhinebeck's keystone staff members.
Her daughter Alyssa is as impressive and charming in more ways than one.
Although she currently lives between Tribeca and Hudson with her husband and three rescue cats (Midge, Norm, and Winkybutt), Alyssa grew up in Rhinebeck.
Even in the 90's, she recalls the same sheltered and safe environment that Rhinebeck is today. "I think we grew up without a real sense of risk, that bad things could happen to us like kids now do," said Mastromonaco.
Leaving the bubble, Alyssa attended University of Vermont as a French major with a minor in Japanese Language. Later, she attended University of Wisconsin-Madison, studying Political Science.
When I asked if she recommended getting a degree in Political Science, a simple "sure" in response told me all I needed to know. Politics, in her mind, was more about "reading" people than anything a degree could teach you.
Mastromonaco never regretted her college experience, and it was mostly because she studied what she was interested in. One thing she emphasized was the fact that her lack of Ivy League experience did not impede her political career.
While in Vermont, she took her first steps into the political world as an intern for Bernie Sanders. She spent two unpaid summers answering phones at the campaign office and driving Bernie to events. What Mastromonaco learned would fuel her work in politics for the rest of her career.
Bernie's attitude and way of going about politics was not like the things you see on TV. He cared about local news and public service, and he never treated her like a young person.
Becoming the White House Deputy Chief of Staff in 2011 was not planned for 34 year old Alyssa.
Never once did she say to herself, "I want to work in the White House." In high school, she had no idea the position ever existed.
Her biggest truth to share was that if she was chasing someone else's career path, she never would have made it.
After working through the ranks, meeting a fair share of people she really liked, and a handful of those who she didn't, Mastromonaco kept her head in the right place.
She wanted to work for someone she believed in and could be proud of, regardless of if they won or lost an election.
Barack Obama trusted Mastromonaco as someone to count on, and someone who could be discreet. When she heard they had chosen her, she begged them to pick someone else.
Soon enough, her days started at 4:45am, checking the news. A 6:30am arrival at the "18 acres", or the White House campus, was followed by standing meetings where the staff went over the "bad news" that happened overnight.
Each day she managed the presidential personnel who were responsible for confirming cabinet and sub cabinet positions and the White House military made up of 3,500 civilians and military officers.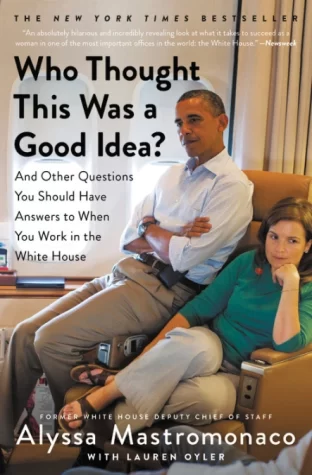 She oversaw all the President's foreign and domestic travel as well. To put it in the most informal terms, Mastromonaco was Barack Obama's assistant.
As the youngest woman to hold her position, Alyssa claimed to have faced more ageism than sexism.
She felt a lot of "raised eyebrows" and knew her biggest task was to earn people's trust. Going in to it, she thought she had to be perfect.
Upon realizing that even the most intimidating political officials do indeed make real mistakes, Mastromonaco realized that admitting and owning up to them was the best and most important thing to do.
Earning respect came from being able to admit she was wrong, and work toward a solution.
If I hadn't heard enough surprising things about politics already, Mastromonaco blew my mind even more. Politics is made up of a small population of people who are, unlike the stereotype, not a "special kind of person." In high
school Mastromonaco used to believe this herself.
Her story is not of the majority, but is it a prime example of someone from this town becoming something larger than expected.
Politics is not a far away fantasy, or a complete nightmare, depending on where you lie.
In our generation's case, hope for the political world is closer than ever.