We Have a Swim Team?
When It Comes to School Sports, It's Hard Not to Play Favorites
Reagan Schweppe, Managing Editor, Captain of the Girls' Varsity Swim Team
November 10, 2018
Rhinebeck prides itself on being a small school with "big school" opportunities. We have APs, clubs, and sports teams galore. But with a student population of 386, some of our athletics are stretched thin. And many of Rhinebeck's smaller teams feel that they don't get the recognition they deserve, particularly in the face of the school's soccer teams.
The boys' varsity soccer team and the girls' varsity soccer team alike have won numerous MHAL and Section IX Championships over the years, with the boys' team winning Class C State Championships in 2014. Clearly, the successful reputation these programs have built is not accidental.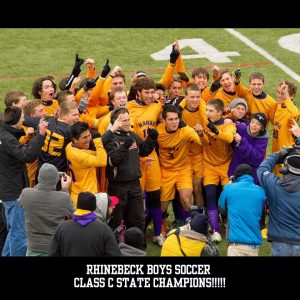 But success is relative to the sport. If we take a look at Rhinebeck's girls' varsity swim team, we see that our school's athletic prowess is not limited to its soccer teams. We have sent three girls to the NY State Championships since the team's founding in 2012; many competed in multiple events.
Just this year, sophomore Miya Vitale qualified for states in four events: the 200 Individual Medley, the 200 Freestyle, the 100 Backstroke, and the 100 Freestyle. On top of that, six out of seven varsity swimmers attended Sectionals; all of them then qualified for Section Finals.
The majority of the girls' swim team, however, has felt a sense of resentment.
"We didn't have a pool for the first half of the season," one girl complained. "And our buses are never on time." On top of this, swim meets often take place over an hour away from Rhinebeck. So even when the bus isn't late, the team frequently misses warm ups and gets back to the school after 9pm on week nights.
On one particularly upsetting meet day, the girl's swim team was forced to share a bus with the girl's soccer team. After waiting for over twenty minutes for the soccer team to get their equipment, the bus finally left, dropping the soccer players off first. The bus then proceeded to take the swimmers to their meet, dropping them off an hour and a half late. One parent who came to the meet on time, expecting to see his daughter swim, had to return to work before the events even began.
But after conducting several interviews, it is obvious that there's more at play than favoritism.
The innate issue with the girls' swim team, and the boys' swim team for that matter, is fairly self-evident: Rhinebeck High School doesn't have a pool. The team's practices are held at Bard College, putting them at a significant disadvantage in terms of transportation.
Not to mention, the Bard pool is not under the school's control. This makes it difficult to schedule home meets. And when Bard had to renovate its pool deck for the first half of the swim season, the team had nowhere to practice.
"
The innate issue with the girls' swim team is fairly self-evident: Rhinebeck High School doesn't have a pool.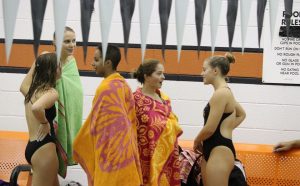 The other dilemma is that there are few nearby schools that have swim teams. As a result, swim meets necessitate long drives to the larger schools of Section IX that do have aquatic departments. Being frequently late is a consequence of being one of the only schools in our area to offer varsity swimming.
Some swimmers have also speculated that the team always gets the short end of the stick when it comes to buses, but as it turns out, this is mere coincidence. The team only had to share a bus with girls' soccer the one day because four bus drivers were out sick that week.
In turn, the girls' soccer team has certainly had their fair share of unfortunate bus pairings. After losing to Spackenkill at Section IX Semifinals, the players had to ride home with them due to a transportation oversight. "It wasn't horrible," Captain Sarah Tobias told me, "but it was our last bus ride together that season."
This issue runs deeper still; when bus drivers are out sick and others need to fill in, drivers are borrowed from Chancellor. This entails merged routes, overcrowded buses, and "elementary school parents complaining that their kid's bus driver doesn't know where they're going," one driver explained to me.
But on the other hand, many swimmers also feel that their team suffers from a lack of recognition.
Speaking with some girls on this topic, they often cite the school's athletic Twitter page. About ten tweets are sent out whenever an important soccer game takes place, detailing the events of the match. With other sports, it's out of the ordinary for them to get more than one.
However, upon speaking with the girls' varsity swim coach, Mr. Aierstok, I learned that this is primarily due to the coach's communication with Mr. Boucher, our athletic director.
"If you don't get a tweet or an announcement, it's because I didn't request one," Aierstok elaborated. And to answer my question about why soccer gets so many updates compared to swimming, he told me: "It's the nature of the sport."
And upon speaking with Mr. Boucher, his frustration with the fall sport overload became apparent. He agreed that girls' swimming may be overlooked, but he chalked it up to the availability of six other varsity sports. Mr. Boucher maintained that if girls' swimming were in the winter with the boys, more students would get involved, more students would know about it, and bussing and meet scheduling would be much simpler. When he asked New York State why it was in the fall to begin with, the answer they gave him was: "because it's always been that way."
In other words, neither Mr. Aierstok nor Mr. Boucher can point to any factor within the school's control affecting popular opinion of the swimmers, and I can agree to an extent; at the end of the day, the recognition they seek has more to do with increasing the school's awareness of the sport and its success.
One incident, in which the swimmers were waiting outside for a (late) bus, illustrates the missed connection. A passerby saw them and asked, "What team is this?" After one girl answered, he replied, dumbfounded, "We have a swim team?"
This begs the question, do the school soccer teams merit more recognition? Do they generate more school spirit than the swim team? Or perhaps are team sports just inherently more valuable to the school as a whole than sports based off of individual events? How do we even begin to compare the two?
"
You can complain that swimming is treated unfairly… If the swimmers we sent to states [won states], they'd get a parade, too.
— David Aierstok, Varsity Girls' Swimming Coach
We sent two senior swimmers, who were recruited by D1 and D3 schools, to states the same year of the varsity boys' soccer team's 2014 state championships. But Coach Aierstok explains that the two were never on par.
"You can complain that swimming is treated unfairly, but the soccer team got a parade through town because they won states. If the swimmers we sent to states did that, they'd get a parade, too."
Part of me would like to disagree, but the nature of this issue is too nuanced to be covered in a single article. It's impossible to assess any sport's innate value over another. Especially when so many of our teams have so few members.
Perhaps the swim team would get more recognition if it had more than seven members, but who can say. Hopefully, more members will join in the future, and hopefully, the answer to the title question will then go without saying.
If you're interested in joining the Girls' Varsity Swim Team next year, talk to Mr. Aierstok. Regardless of how much swimming experience you've had, we encourage you to join.
Congratulations to Miya Vitale, who will compete at NY State Championships in the 200 Individual Medley and the 100 Backstroke!