"Sense and Sensibility" (1995) Review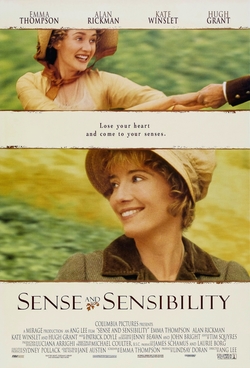 Sense and Sensibility (1995) is regarded as the best adaptation for the screen of Jane Austen's novel.  It has a relaxing beginning, strong humor, beautiful scenery, clothes, houses, and weather and the score is very expressive.
Sense and Sensibility explores two sisters responses to finding and keeping love. Elinor Dashwood, the oldest of three sisters, embodies sense, or reservation and restraint of one's emotions. The middle daughter, Marianne, embodies sensibility, or pursuit  of and sensitivity to one's wishes and joys. Both girls move with their family, that is, their mother and younger sister, from their large estate in the late 18th century to a smaller home after the loss of their father and his income. Money, as well as the characters personalities, plays into how their stories develop. Austen's view seems to be, as it is reflected in her work, that those who marry for money will never end up as happy as those who marry for love- perhaps writing about it and never marrying herself were her way of expressing her displeasure at the world she lived in.
I found that the movie was very relaxing to watch because for the first half, not very much goes wrong once they move to their country home. There are many scenes that follow the family walking or in a carriage passing through the fields and blue skies by their home. "Sense and Sensibility" stars Emma Thompson, Kate Winslet, Hugh Grant, and Alan Rickman. In my opinion, the quality of the movie lies in its easygoing nature and fine-tuned acting, enforced by the years of preparation Emma Thompson put into writing the screenplay and studying for her role. The movie had positive reception and I would personally rate it as 2.5/5.
Leave a Comment