Black Box Theatre Coffeehouse Hosts 2019 POL Competition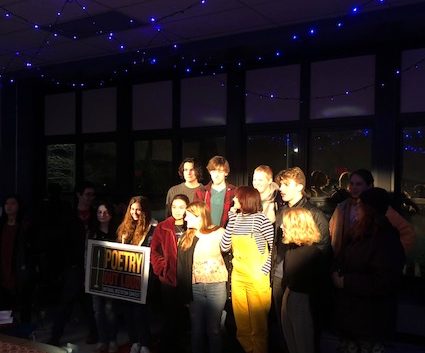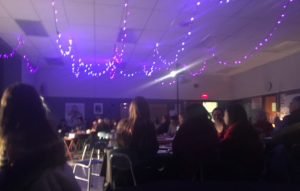 After multiple mornings of delayed school openings due to frigid temperatures, RHS's Drama and Creative Writing Clubs were delighted to host artists and poetry lovers at a warm and wonderful Coffeehouse on the evening of January 25th.
Blackbox Theatre stage crew, led by Sofia Brizzi, Charlie Derbyshire, and James Ayton, transformed the BMS cafe into a swanky coffeehouse with purple twinkly-lights and tables loaded with sweets.  Lights and a mic on a raised platform set the stage for our talented performers.
Charlie Derbyshire
Poetry Out Loud competitors Gideon Rothschild, Maisy Holehouse, Sofia Quon-Youle, and Grace Ellis performed their recitations beautifully.
Judges Nell Hanks, Norm Magnuson, and Nancy Ebel were impressed with their poise and confidence.  They also raved about the monologues, poetry readings, and original writing by students, including Sofia Rich, Rachel Dull, Nicole Prout, Kellianne Ticcony, Isaac Levine, and Helen Fleming.
Grace Ellis took home first prize, a generous $50 donation from Oblong Books and Music.   Sofia Quon-Youle received a $25 gift certificate to Oblong and was crowned runner-up.
Regional competition for Poetry Out Loud takes place at SUNY New Paltz on Thursday evening at 7pm.
Good luck RHS POL!
Update: