Homecoming Fires up RHS School Spirit
For the first time in 34 years, RHS will celebrate Spirit Week with a Homecoming bonfire and dance.
Beginning on Friday, October 7th, Spirit Week kicks off.
Show your school pride with your participation in spirit week. Next week contains only a 3-day week, so  Friday of this week is included to create a longer spirit week. 
RHS student council reached out to their peers for ideas. Each day's theme was voted on by the students during their lunch periods and approved by Dr. Davenport. The lineup for Spirit week comes down to Twin day, PJ day, White Lie day, and Rhinebeck Spirit day.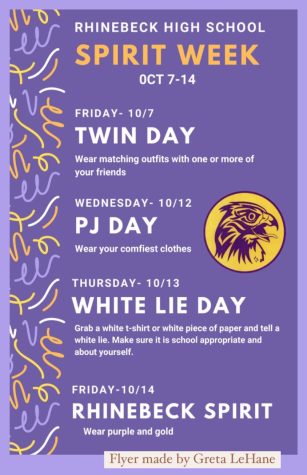 For the past few years, at the end of spirit week, RHS would have a Hawk Day during the school day. But this year, the student council planned a homecoming bonfire on October 14th and a dance on October 15th beginning at 7 pm. The last homecoming dance took place in over 18 years.
Historically, the Andy Bennett tournament has served not only as a memorial tribute but also as a kind of fall homecoming game.
Varsity and JV Volleyball teams have games on Friday, October 7th to start the Andy Bennet tournament and the homecoming games.
Both Varsity Boys, JV Boys, and Girls' Soccer games occur on Saturday October 8th at 10 am.
The Cross Country team has a meet on October 12th which runs us towards the home stretch of games.
Boys Varsity Soccer's game on October 14th stands as the last game before the Homecoming dance the next evening.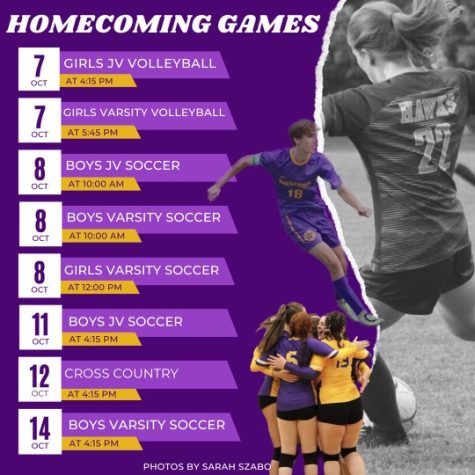 More Sports are taking place between the homecoming games that are worth noting. Check out the Rhinebeck Athletics Website to see more information.
These next two weeks are going to be eventful. Besides marking the end of the fall sports season and the start of the postseason for many, homecoming this year is a reboot of an old Rhinebeck tradition.
Be loud and proud, Hawks!
And give a huge thank you to the student council for sparking our school spirit. 
Leave a Comment